Recipe: Arugula Goat Cheese Salad
My lunch today is so delicious I had to share. Since tracking down the camera would have required me to pause and not immediately devour lunch, I used my iPhone instead. The quality definitely shows, so you'll have to use your imagination with the image and trust me!
I tend to go heavy on the toppings and light on the dressing. This is so easy I feel wrong calling it a recipe.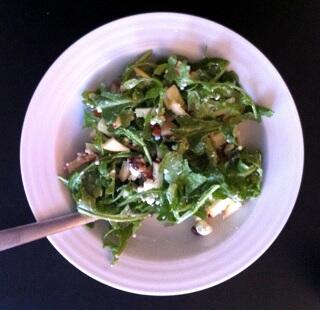 Ingredients:
Arugula
Crumbled goat cheese
Thingly sliced Honeycrisp apple
Toasted pecans
Light champagne salad dressing (I always use Girard's)